Slayer fans have been screaming the band's name out loud for decades now and it's only now that the internet has decided to turn it into a full-blown challenge.
YouTube duo Jhoffilms recently ran some kind of contest to see who could yell "SLAYERRRRR" in the most entertaining way, and as they detail below, they received a ton of submissions.
They show off a long list of submitted clips in the video and announce the contest winners too. You're gonna see people screaming in the middle of the street, on top of a ferris wheel and other ridiculous places:
Excuse us, we're gonna go let off a big scream of our own to the opening riff of South Of Heaven.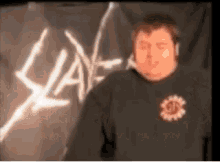 Listen to Slayer now.